20 Tips for Working From Home
Working from home, while more popular among employees is hard. It's a lot more challenging to bond with your co-workers, stay engaged in company culture and feel like a part of the team.
When you're working from home whether you're self-employed, freelancer or remote worker you'll have to set your schedule.
Here are 20 tips based on our experience and what we've observed and learned from other remote workers.
20 Tips for Working From Home
1-Define Office Space
Just because you're not working at an office doesn't mean you can't, well, have an office. You can dedicate a specific room or space in your home to work.
2-Define Work Hours
One of the best things about working from home is the control it gives you over your schedule. Evenly important is scheduling a time to stop work. The problem when working from home is that work and personal life start to connect, and you begin to feel like you're always on. This can be very unhealthy. 
3-Prepare As If You Are Going to Office
When working from home, do all the things you'd do to prepare for an office role; set your alarm, make coffee, and get dressed. The mental connection you make between work and an office can make you more productive. 
4-Create a Morning Routine
What is your morning routine that describes the start of work? It might be getting dressed. It might be making a cup of coffee. It might be yoga. To get some structure in your work-from-home life, you need to create your morning routines.
5-Create a Daily To-Do List
When working from home, you're your manager. If you have an online calendar, create events and reminders that tell you when to start on new tasks. You can use an app such as Google Calendar, Trello, Asana. You can also create a to-do list on your notebook or post-it. 
6-Get Dressed
Wear what is comfortable for you. But changing out of your pyjamas is important, even if you're just changing to yoga pants or shorts.
7-Set a Schedule
If you are going to make working from home every day, then set specific work hours. The best advantage of working from home is that you can be flexible. Be sure to also communicate your work schedule to coworkers and your team. Find your most productive work hours.
8-Schedule Breaks
How long should you work before taking a break? The key is to make sure you take the time to refresh your mind and body. A 5 to 15-minute break will make all the difference. You can use an app, such as TimeOut for Mac and Smart Break for Windows, to lock yourself out of your computer. 
9-Focus On One Task
Projects always take longer than you originally think they will. For that reason, you'll usually get done less than you set out to do. If you create a daily list that tells you when to start one specific task. Focus on one thing at a time.
10-Set Rules
Set rules with who share your space for when you work. If you have a family member or roommate while you're still working, they need clear rules about what they can and cannot do during that time. 
11-Be Positive
Stay positive when working remotely. When you work from home, you must be positive, to the point where it may feel like you're being overly positive.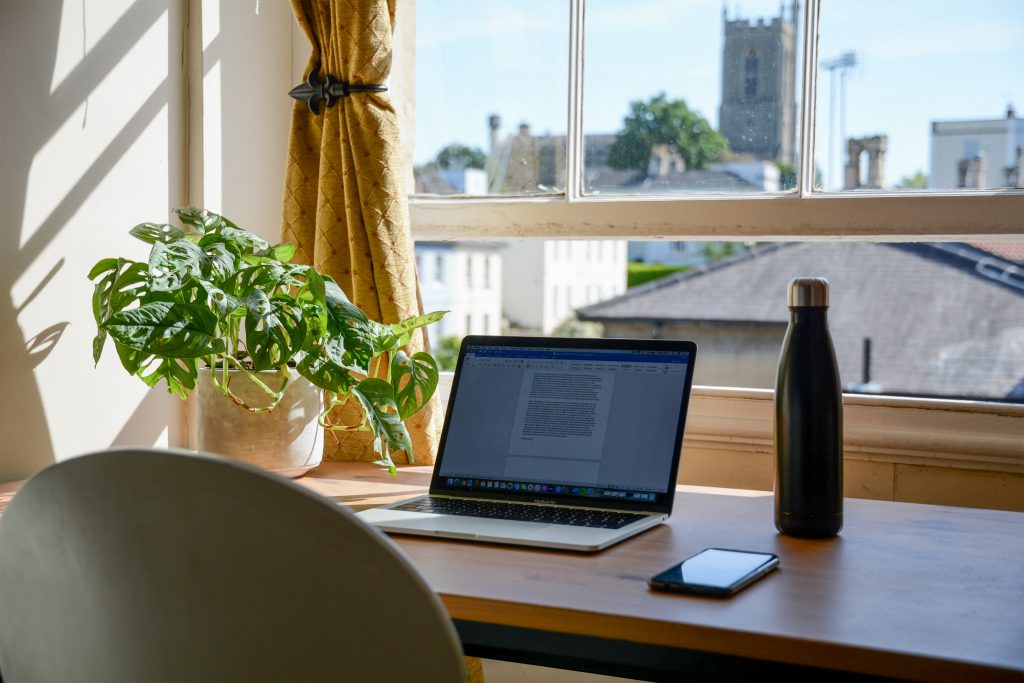 12-Listen to Concentration Music
You can listen to music that matches the energy of the project you're working on. Classical music, Nature Sounds, Video game soundtracks and Instrumental Songs are great at this. That lyric-free music makes sense that it would help you focus on your work as well.
13-Eat Healthy
When you're in your home, it can be tempting to spend time preparing a nice breakfast and lunch for yourself, and cooking included. Especially, when you work from home taking a lunch break is so important. Preparing food ahead of time guarantees you can use your meal times to eat. You can make a sandwich, fridge-friendly salads, soups and pasta dishes the night before.
14-Communicate with Your Team
Tell everyone who needs to know about your schedule and availability often. Be sure to speak up during the meeting so everyone knows you're on the call. A basically, "Thank you, everyone. See you later!" at the close of a meeting is enough to make your presence known. 
15-Inform and Report
You can use technology to stay connected. When you finish a project or important task, you can inform your team. Effective task management or status reporting system is important for every remote team. You can use Trello or Asana for project management.
16-Use Technology
Working from home might help you focus on your work in the short term, but it can also make you feel cut off from the larger operation happening in the office. For videoconferencing, you can call on the usual suspects: FaceTime, Skype, Zoom and Google Hangouts. 
17-Socialise with Coworkers
It's important to figure out how much interaction you need to feel connected and included. Loneliness, disconnect, and isolation is common problems in home office work life. Check-in with co-workers and managers several times a day. Instant messaging and videoconferencing tools can make it easy to check in with your team. You can use an app such as Slack, Telegram, Skype, Zoom and Google Hangouts. 
18-Take Time Off
You should take time off work if you're ill. You have the right to use your legal holiday entitlement during your sickness.
19-Join Online Courses
When you're working at home and you're not in an office with your co-workers, you might miss out on training and skills development courses. If there is a course you need for career development, ask your company if you can take it online.
Don't forget to keep a glass of water on your desk to help you stay hydrated.
20-Invest in Technology Equipment
Even if you don't have a dedicated room to turn into a home office, you can still have a comfortable and productive work-from-home setup. All you need is a table, chair, and a few key pieces of tech. The main tech essentials everyone needs to work from home are secure internet and a laptop, but you can also get a monitor so you have a bigger screen to work from as well as a decent keyboard and mouse. You may also want to get a few more accessories such as headphones, speakers, webcams and a Bluetooth keyboard.
20 Tips for Working From Home
Define Office Space
Define Work Hours
Prepare Like You Are Going to Office
Create a Morning Routine
Create a Daily To-Do List
Get Dressed
Set a Schedule
Schedule Breaks
Focus One Task
Set Rules
Be Positive
Listen to Concentrate Music
Eat Healthily
Communicate with Your Team
Inform and Report
Use Technology
Socialise with Coworkers
Use Take Time Off
Join Online Courses
Invest in Technology Equipment